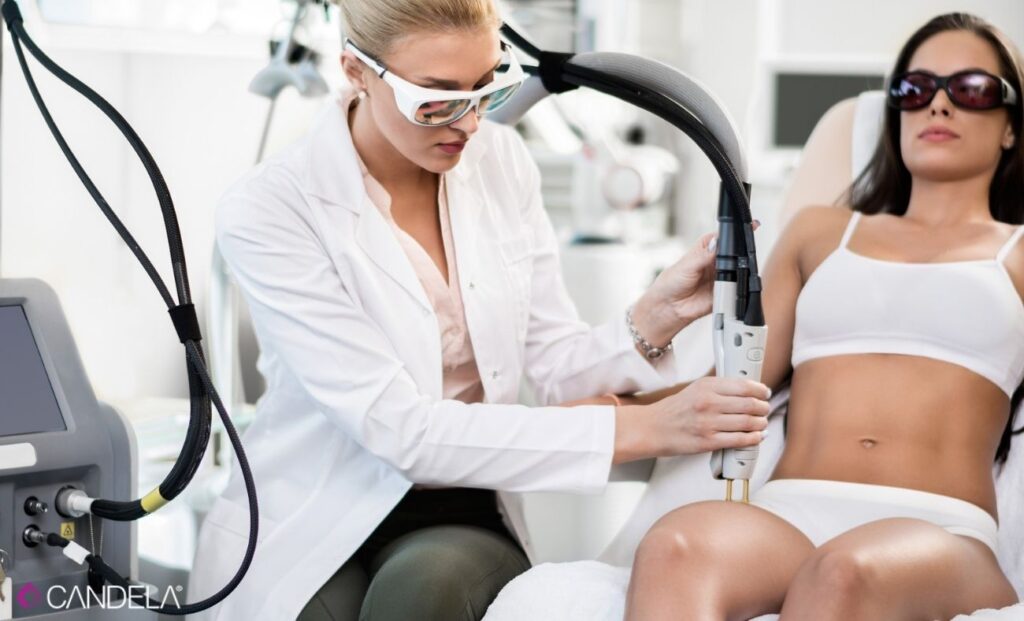 If you're thinking about ways to remove body hair, you're undoubtedly curious about the benefits and drawbacks of laser hair removal. There are plenty of options when it comes to body hair. You can go all-natural and embrace it while it grows out. You've got the classic, quick (and temporary) shave, which also comes with its pros and cons. Another option is hair removal creams, which tend to leave you with less irritation than typical shaving. There are longer-term hair removal methods like waxing and sugaring which will leave your skin feeling soft for weeks, but of course, they too have their disadvantages. There are tons of reasons why people prefer one method over all the others, but you should make sure you have all the facts before deciding which option is best for you!
Laser hair removal is a popular, semi-permanent option that safely damages hair follicles to minimize hair growth. Although the zaps aren't the most comfortable, the treatment is considered a favorite among many. The zaps are often described as feeling similar to a rubber band snapping against your skin, so it isn't unbearable.
What is the Laser Hair Removal Process?
Step 1– Before the treatment begins, the LHR Technician will apply gel to the treatment area. Some patients will receive a numbing gel. When a small area will be treated where the skin is very sensitive, numbing the area may help.
Step 2– The laser treatment will happen in a room specifically for laser hair removal. Everyone in the room will need to wear protective eye shields to protect the eyes. The hair where the treatment is taking place needs to be shaved the day before.
Step 3– A test treatment will take place by directing a test pulse light to the treatment area. A low-energy laser beam will travel through your skin and be absorbed by the pigment of active-growth hair follicles. This area will be monitored to ensure that the settings are right and to look for any treatment-related side effects.
Step 4– If the test is successful, the low-energy laser beam is systematically directed spot-by-spot to the areas to be treated, inhibiting active-growth hair follicles quickly and semi-permanently with each treatment. The therapy has no effect on follicles that are dormant.
Step 5– To soothe the treated regions and alleviate any discomfort, you may be given ice packs or aloe vera after the treatment.
For the best results, multiple sessions are necessary. Initially, six to eight sessions are typically required, but you should expect additional sessions at a later period.
Treatment intervals of four to eight weeks are recommended by most laser technicians, depending on:
Age, gender, hair type, and hair growth pattern
The area of the body being treated
The laser or light-based device that is selected
What Are the Pros of Laser Hair Removal?
Although laser hair removal will not ultimately get rid of hair forever, it does dramatically reduce hair growth to the point that many people will not see any hair grow back for months, or even years. The hairs that do return are typically thinner and lighter in color.
It can be done anywhere on your body, and the machine is capable of covering big regions quickly. Legs, back, underarms, bikini line, stomach, face…there's almost no limit to where you may have laser hair removal (if the laser is safe and effective for your skin tone and hair color). And there isn't a higher risk of side effects with laser hair removal in the bikini area than in other places.
It may not hurt too much depending on your hair type and the service area. When it comes to pain, many individuals compare laser hair removal to shaving (which is painless) and waxing (which is painful). To reduce discomfort, technicians sometimes administer a numbing gel to help desensitize the area. Because these are sensitive locations, bikini and brazilian laser hair removal may be more painful. However, as the hair becomes finer the procedure becomes less uncomfortable with each session.
What Are the Cons of Laser Hair Removal?
Laser hair removal is not cheap. However, if you sum up how much you've spent on razors and bikini wax treatments over the course of your life, the $300-$400 per session cost of laser hair removal might be worth it, according to the American Society of Plastic Surgeons (not covered by insurance, unfortunately).
It's a lengthy process. A laser hair removal session on a small area, such as the underarms, usually takes ten minutes or less. However, true effects take several sessions (usually six to eight, depending on the size of the area), and you must wait at least six weeks between treatments.
Laser hair removal, if performed by an untrained technician, might result in skin burns or scarring. Regrettably, licensing regulations differ by state, and some states have no regulations at all. Be wary of "laser centers," as some states do not require laser hair removal practitioners to be licensed. If you insist on visiting a spa, make sure it's a medical spa or laser hair removal center run by a doctor who is board-certified.
Is Laser Hair Removal Safe.
Laser hair removal can be safe for any skin tone, however, it is critical to thoroughly vet your laser hair removal technician to avoid unpleasant side effects. If your skin is melanin-rich, you'll need to inquire further about the sort of laser that will be utilized during the procedure. (People with black hair and fair skin are more likely to benefit from laser hair removal because the sharp difference between skin tone and hair is easier for the laser to detect and target.)
Protecting your skin from the sun after laser hair removal is vital to avoid possible side effects. It is best to avoid direct sunlight and tanning beds. Seeing redness and swelling after treatment is normal, and applying a cool compress can assist in reducing discomfort.
How Long Will Laser Hair Removal Last?
Results for laser hair removal may be seen after the first treatment, but results vary from person to person. Different factors include the color and thickness of the hair being treated, as well as the area being treated. These factors will also differentiate the longevity of the results. Some people remain hair-free for months or even years after receiving laser hair removal. Even when hair begins to grow back, it will likely be much less noticeable.
Tonicity Health & Wellness Med Spa is the leading provider of Laser Hair Removal in Safety Harbor. Offering the Candela device, we are able to provide up to 80% permanent hair reduction after just 3 treatments. The Candela laser hair removal device delivers a consistent and superior performance while reducing downtime and maximizing the number of spot sizes you can treat.
If you are interested in Laser Hair Removal in the Tampa Bay area, or just learning more about it, contact Tonicity Health & Wellness today!